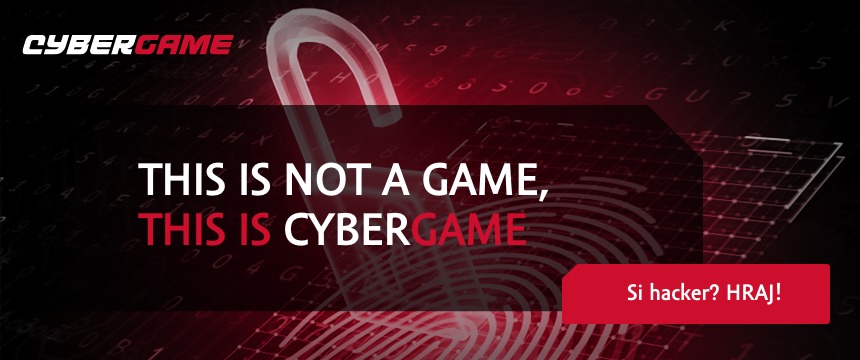 CyberGame 2023: All-Star Players, Artificial Intelligence Usage and the Slovak National Team Formation
The 2nd edition of the national cybersecurity CyberGame competition registered a total of 2,334 participants on both the Slovak and English playing platforms. The expert guarantor of the contest is the National Security Authority.
1,788 players were registered on the Slovak playing platform, 832 of them were active players, which means a significant increase in both categories. Students, public administration and private sector employees and several dozen teachers participated in the competition while the youngest player was thirteen years old. The average age of the trio CyberGame winners was 25, with all three scoring full points.
"Though the second edition had six playing branches and more difficult tasks, we saw excellent performances. Players had to study harder, actually they had been improving in live performance and that's where we discovered new talents," says Rastislav Janota, Director of the National Cyber Security Centre SK-CERT. More than seven hundred registered under 25 years raises hopes for cybersecurity.
Martin, the student, not only won the student category, but also became the absolute winner of CyberGame 2023: "The motivation lay in training, improving and discovering new areas, of what I like, in what I am engaged and what I study," he says. CyberGame, despite its "gamer" title, is primarily a challenging cybersecurity competition, so participants take part in it in their spare time.
The winners of both the competition and the individual categories speak of an irresistible combination of detective work and knowledge demands. Martin Jantošovič, a computer programmer, says he likes logic puzzles. His result nominates him and two other players for a trip to a cybersecurity development centre in Israel.
Award-winning public administration player Rastislav Kavecký says that he wanted to take part in competition because it was a great opportunity to learn and try something new in cybersecurity and "it was also great fun". Juraj Bôrik was so unhappy with last year's 57th place that his preparation for this year resulted in a win in the malware analysis branch.
The best player in the teacher category scored points for the eighth place. He participated in the CyberGame to show himself and also his students that the saying "those who don't know, teach it" does not apply. Peter Švec teaches at the Faculty of Natural Sciences and Informatics of Constantine the Philosopher University in Nitra and says that he has gained a lot of new knowledge and learned to see some things differently. "So, I can pass this broader view on to the students. The tasks in the game were elaborated at a high professional level, for which the authors deserve great praise."
Ten CyberGame players under the age of 25 will represent Slovakia as Team Slovakia in the prestigious contest European CyberSecurity Challenge 2023 in autumn in Norway.
This year's CyberGame has already incorporated a current phenomenon – the use of generative language models based on artificial intelligence in cybersecurity. When creating tasks and tests the SK-CERT team worked with the ChatGPT model so that its use did not give players an advantage during the competition.
Our world is changing with digitization, and along with opportunities it brings new threats. Cybersecurity will always be a challenging profession, and we can protect this new world of ours only through shared responsibility. That's why Peter Švec, a successful teacher in CyberGame, has a message for all of us: "Seeing or knowing the threats in particular situations would help the general public to better understand the cybersecurity. People often don't know how big digital footprint they leave behind."
« Späť na zoznam