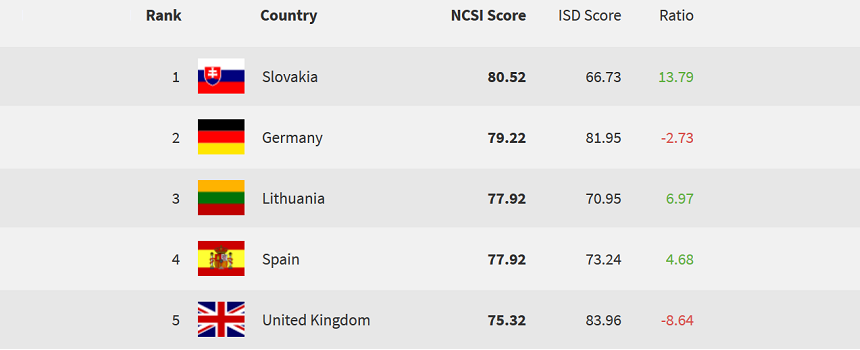 The Slovak Republic takes first place in the National Cyber Security Index
The National Cyber Security Index have been expanded by inclusion of eight new countries. One of these countries is the Slovak Republic, which has also become its new leader. This position reflects the high level of efforts invested in the development of cyber security over the past years.
Slovakia achieved the maximum score in 7 of the 12 capacities and with a total score of 80.52 points ranked first in the National Cyber Security Index (NCSI). It takes the slight lead over Germany, Latvia, Spain and the United Kingdom.The monitored indicators are divided into three groups:
General Cyber Security Indicators,
Baseline Cyber Security Indicators,
Incident and Crisis Management Indicators.
You can find more information on each of the rating indicators together with the list of all 63 participating countries on the NCSI index page.
The NCSI index is an internationally recognized project of the eGA (e-Governance Academy Foundation), which was established to collect and transfer knowledge and best practice in e-Governance, e-Democracy, cyber-security and building a modern, ICT (Information and Communication Technology) driven society.
Partners of eGA are The Estonian Ministry of Foreign Affairs, The European Union, The European Commission, World Bank or the U.S. Agency for International Development.
« Späť na zoznam